Ken Fierheller – Founder of One Life Counselling & Coaching LTD.
Welcome to our One Life Counselling & Coaching website. I hope you find the resources, blogs and information on here helpful, inspiring and we want you to know that we are here to serve you if you need our help.

I am the founder of One Life Counselling and Coaching LTD and I am honored to lead a team of professional psychologists, psychotherapist's and life coaches who dedicate their professional lives to helping people to elevate their mindsets, evolve their beliefs and learn to thrive in the present moment.
How Have I Became a Psychotherapist?
My role as a marriage counsellor and psychotherapist began over 16 years ago when I found myself on 8month journey to South East Asia. At the beginning of that trip I made one of the most important decisions of my life. To join a 10day silent meditation retreat in the jungle. The rule was you cannot speak to anyone for 10days and you go within yourself.

This became a signature life event for me, because from that day onwards I became obsessed with mindfulness, personal development and found myself drawn to every self-help book, video and workshop you could think of.

This experience at the Tibetan Monastery was a deep immersion into meditation that help me focus my energy and attention towards life changing and when I returned to Canada, I decided to go to school to become trained as a registered psychotherapist and serve other people.
My Work History
I found a private institution that specialized in mindfulness and the here and now called The Gestalt Institute of Toronto. I attended their rigorous training program graduating their post-graduate program to become a fully registered Psychotherapist in Ontario.

Before I started my private practice, I opened a new facility for high risk youth and led a team of mental health professionals to successfully support and enhance their lives in a Southern Ontario. I had the role of leading our team to develop skill building programming for the youth, create a therapeutic environment and offer counselling where needed.

Currently, I still play an active role advising leaders and professionals in residential treatment centers on how to implement best practices and lead their teams.

After leading residential treatment center, I took a role as the lead facilitator for an innovative conference center in Toronto, where I designed and delivered team building and leadership workshops for our corporate clients.
I successfully developed programming and workshops for building trust on teams, how to have difficult conversations, dealing with conflict in the workplace and many more.

Shortly after moving to Alberta I started my private practice specializing in relationship counselling, anxiety counselling, depression counselling and life coaching for self esteem and developing more confidence in my clients.

As of now I have been in my own private practice as a psychotherapist, coach and trainer in Calgary for over 10years now and I can say now more than ever that I am so very privileged to have this role in my career. After spending years specializing in marriage counselling, anxiety counselling, depression counseling and coaching entrepreneurs and professionals to have more fulfilling lives that I truly love my job.
Qualifications
Formal Education:
Registered Psychotherapist (Reg #003404)
5 Year Post Graduate Training Program at The Gestalt Institute of Toronto
Continuing Education:
Gottman Couples Therapy Training Level 1 & 2 November 2019
Fully trained in Emotionally Focused Couples Therapy 2016-2017
3 years of training in Relational Couples Therapy with Terry Real
Gestalt Couples therapy Training (Portugal) 2016
Encountered Centered Couples Training 2015
Gestalt Coaching Certificate 2009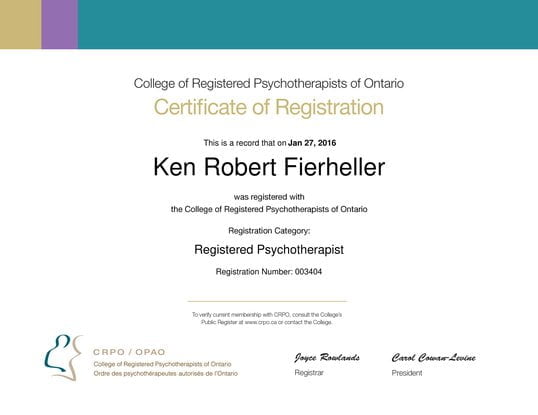 Approach to Therapy & Coaching
The perfect blend of therapy and coaching means that I am moving back and forth between empowering and challenging my clients to grow. I believe that most people that are truly hungry for change want the truth about what they are doing and how they are showing up. It is my job to help you understand that truth and learn to live in more comfortable state of mind with yourself.

A small message to say that I think you are very courageous for being on our site and looking at making an important decision for your well-being today. If you read my story above, you know that I have invested a lot of years and time into my own personal growth.

This is not just a profession for me and our team. It is a way of living and being.